PROSA PRESENTS TO WELLCOM AS A STAR PROVIDER AGAIN
PROSA company specializing in electronic trading, recognizes suppliers that provide innovations to their products and services. Thanks to this joint effort PROSA remains a major media organizations world-renowned payment.
Model Development and Evaluation of PROSA defines Providers to create synergies and value chains to provide feedback on performance and strengthen win-win relationship between PROSA and all its suppliers can improve the level of service they offer their customers. Through this model that defines strict criteria focused on the overall quality of products and services Wellcom is again recognized with the award for "Star Provider. "
Josť Molina, Director General of PROSA, said: "Our select group of providers represents an important source of knowledge for the model continues to consolidate and this will lead to create value chains in the whole process with one goal: customer satisfaction integral to our customers."
Wellcom is again proud to receive this award and continue the challenge to deliver solutions that are routed to the objectives of a world without cash that PROSA offers.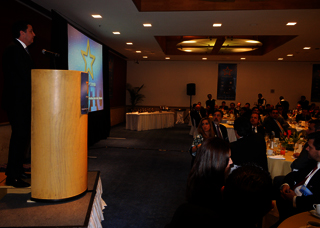 This year Wellcom is known for its high level of performance and is awarded as the "Best Development" in the category of Competitiveness.
Wellcom News